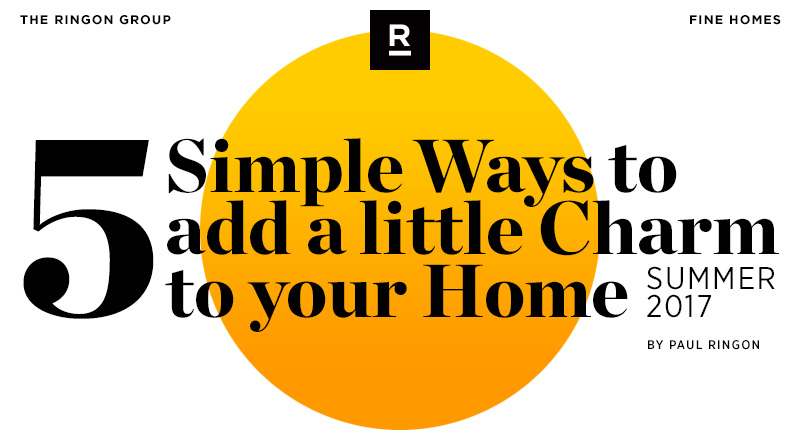 If you're here, chances are you fall into one of these categories: New Homeowner, Renter, or Seasoned Homeowner. Whether you have a blank wall that needs some loving or a space that could use a breath of fresh air, read on and discover 5 quick and easy ways to charm up your home.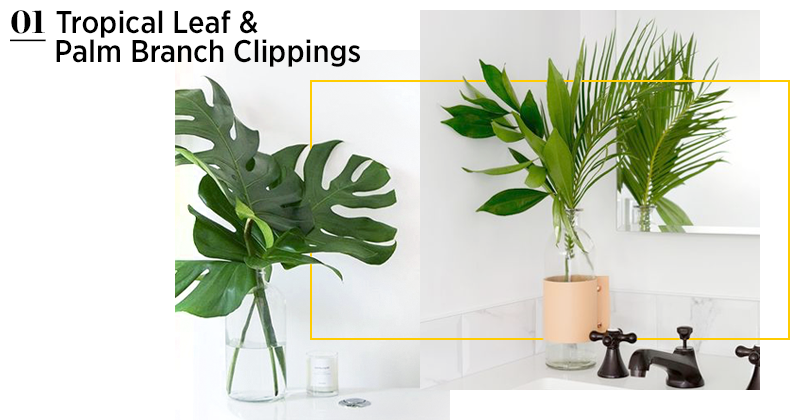 01. Tropical Leaf & Palm Branch Clippings
If you've ever been in my home, you know that I am no stranger to this tip. Snagging a few select clippings in South Florida's tropical climate is no hard task, and when popped into a simple glass vase or your favorite ceramic cylinder, these greens add the right touch of color and warmth to any space.
What I love: The cost is minimal, and in most cases, free! Just be sure to ask permission if you're clipping someone else's plant. If you care for and replace the water frequently, these last weeks or even months longer than flowers. I have White Birds of Paradise leaves that have been on my dining table for almost 3 months and Mother-In-Law's Tongue (also known as a snake plant) that have survived over 2 years!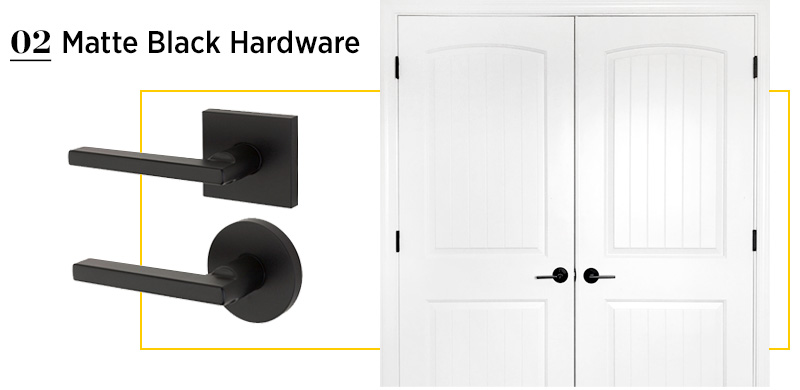 02. Matte Black Hardware
Sometimes the smallest details can make the biggest impact. We recently changed the standard satin nickel handles that came with our home's interior doors to Schlage's Latitude Matte Black levers. As you can see from the photo above of our Master Bedroom doors, we also swapped out the previously-white door hinges.
We have consistent accents of black throughout our home's color palette – curtain rods, light fixtures, our Black Lab Jax – but that doesn't mean you have to follow suit. Play around with your options and you'll discover that updating a dinky old door knob to something with more visual weight can dramatically change the look of your space, no matter the type of finish.
What We Did: We replaced the hardware on 4 Bedroom Doors and 2 Bathroom Doors for just over $250. We chose Schlage's Latitude line of matte black levers, about $35 a pop, which we purchased on Amazon – linked here. For the hinges, we found a 24 pack for about $40, also purchased on Amazon – linked here.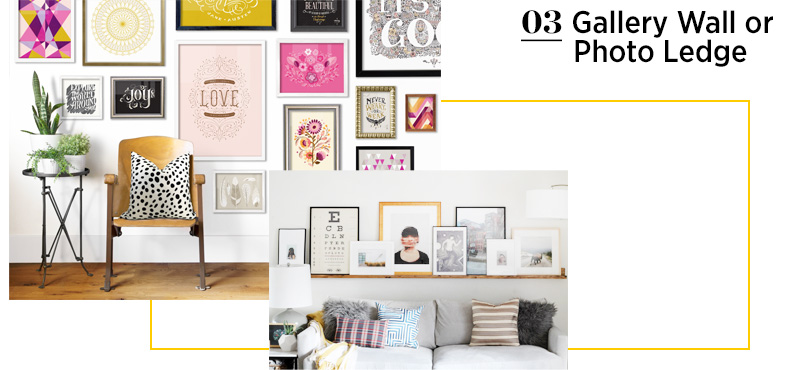 03. Gallery Wall or Photo Ledge
Framed Photos are great, but going beyond the basic box and expanding your creativity and personality onto a featured area within your home is purely satisfying.
In addition to the typical photo, there are numerous ways to amp up or tone down your wall or ledge's eccentricity. Try posters, unique prints, objects or sculptures, shadow boxes and pops of color. Choosing things you love or moments that have meaning to you will make for great conversations when guests visit.
Don't know where to begin? Check out these great How-To Guides from our friends at Framebridge. Also visit @ChrisLovesJulia on Instagram to check our their over-sized photo ledge!What We Love: Our living room has personality. We love the compliments we get from guests and knowing that each piece ties back to our own personal story. If you don't want to commit to a nail in your wall, Photo Ledges are awesome because you can shift things around on the fly – perfect for switching photos and frames if you easily get bored of the same look.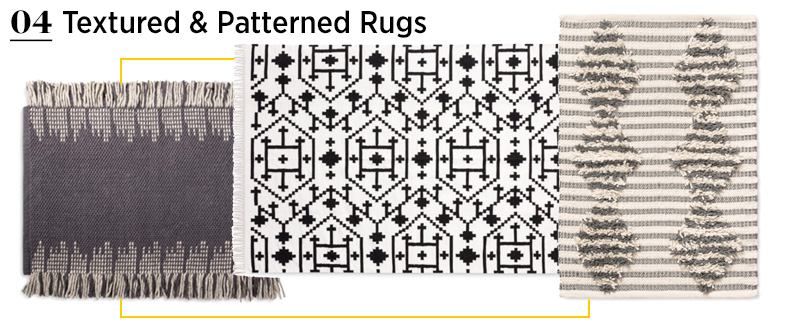 04. Textured & Patterned Rugs
This tip is so simple that you might wonder why you didn't think of it before now. Adding different textures and patterns to various spaces within your home is as easy as throwing down a rug – but where you put them is key.
Say you're looking for a bath mat or kitchen rug, where would you go? Duh – the bathroom and kitchen sections of what, for most people, will likely be their local Target store. But what if I told you that you can also use rugs that are typically found in the living or outdoor sections!
Forget your standard, one-color, fluffy bathmat that looks like a slice of poofy carpet and trade it in for a floor mat or runner that most others would use in a foyer or entry. It'll add a ton of character to a space that often gets the boring and overused, matchy matchy bathmat set, all without breaking the bank. (The rugs above are all around $20 at Target!)
For more tips on decorating with rugs throughout your home, read Design Tips for Carpets & Rugs from one of our favorite design firms, @StudioMcGee! We actively stalk them on both Instagram and YouTube.
Remember: Just because it wasn't in the kitchen or bath section doesn't mean you can't use it there!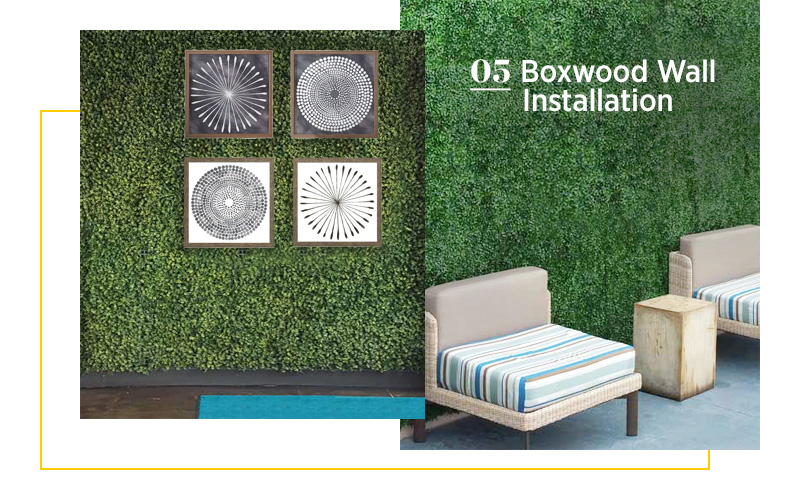 05. Boxwood Wall Installation
You might see faux boxwood around town, installed on interior walls at restaurants like The Poke House in Victoria Park or as freestanding privacy hedges at spots like Pizza Craft on Himmarshee Street.
While you may be the more daring type that can decisively attempt a boxwood wall in your living room, places like your patio, porch or backyard may be a better spot to wet your feet and "grow" one of these dramatic features.
Easy to install and surprisingly affordable, you can purchase 12, 20″ x 20″ (33 Sq. Ft.) panels on Amazon for around $100. We have a covered patio on the back of our home, and this is a project we plan on tackling soon. I've experienced similar installations and can't wait to see how it warms up our outdoor space.
The Plan: Once we've installed the boxwood panels on select walls within our patio, we'll add framed art, a new light fixture and some live plants, as well as a couple other pieces of decor to make this area feel like a true extension of our living space.

Sources: Pinterest.com, Chris Loves Julia, Studio McGee, Target.com, Amazon, Framebridge